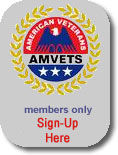 LowcountryHosting is proud to donate a portion of the proceeds obtained from each of those accounts in the AMVETS web project to aid their mission to help veterans who have, and do, so honorably protect our freedom.
The LowcountryDirect AMVETS Project
The AMVETS organization is made up of a large number of dedicated posts and departments all working with the same goals in mind. LowcountryDirect LLC., the parent company of Lowcountry Hosting and Web Services are experts in the development and deployment of web sites, communities, and content management systems. This project is designed to assist the AMVETS organization in developing a web presence designed to disseminate information rapidly and clearly from the AMVETS administration to all departments, posts and members. Also for the posts to be able to communicate with each other and share information and resources to better serve the communities they reside in. This can be accomplished through a custom built multi-tiered web system.
The AMVETS News Network. Through the development of a custom RSS News feed system. (RSS or Really Simple Syndication is a useful tool for keeping updated on your favorite information. RSS makes use of an XML code that constantly scans the content of a website for updates and then broadcasts those updates to all subscribers through a feed.) The AMVETS News Network allows anyone within the system to post an article to the service. All articles are moderated by the AMVETS administration to ensure appropriate content. Subscribers are able to carry the content of their choice on their website. The custom built web templates of the LowcountryDirect EasySite Builder will carry the administrative feeds automatically and can not be removed.
LowcountryDirect EasySite. Is an online website builder that allows you to build a template-driven web site from scratch or edit your existing site using only a web browser (Internet Explorer and FireFox on PC, or FireFox on Mac). Take your web site to the next level by using a complete, fully-integrated web site building and editing solution, without any of the typical customer service requirements associated with web design and web publishing. LowcountryDirect EasySite Professional will include hundreds of custom built professional web site templates which you can choose from when using EasySite's web site building wizard.
AMVETS Resource Center. A perfect way to bring all of the AMVETS resources to one location. This benefits everyone! There are so many features and abilities in the resource center it's hard to list them all. Here the National AMVETS organization can actually generate income! First, all posts should list in the resource center so that everyone can find each other easily. Then all AMVETS should encourage local "AMVETS friendly" businesses to list their business in the directory. If a post has a local business that will provide services for AMVETS that are less expensive or hard to find, other posts across the country could tap into the resource, therefore helping all posts get hard to find services and helping the business by giving them potentially hundreds of new customers! Everyone wins. The resource center has multiple customizable listing options for the business resources allowing them to have a "pay for position" listing. This sets up a competitive market for the listings and income potential for AMVETS.
LowcountryDirect has completed development of the package. We have built extensive help files to aid in the use by the end users. The non-technical end user was considered in all aspects of the development. Ready for sign-ups is an automated signup and billing system that will allow the users to sign up for an AMVETS site at a greatly reduced price, receive all invoices (via email). All users will be able to login to their account, view their history, print statements, pay invoices, register a domain name, sign up for services, upgrades and more.